American Galloway Breeders Association (AGBA)
We learned way back that it's not always in our best interest to chase every fad that rushes by.
We watched the great frame race of the last two decades, and kept our cattle moderate in size and mature weight - even though it was unfashionable to do so.
Then we witnessed the industry push for maximum lean, and questioned how long consumers would buy beef that's too tough, that has no flavor.
And we wondered how long cattle producers could tolerate heavily-muscled open heifers, and bulls that couldn't get the job done when the going got tough.
That's
why we breed Galloway
.
An interview with AGBA President Harley Blegen at the National Western Stock Show.
LatestNews...

Click here to view minutes from the AGBA Annual Members Meeting held October 14, 2017 at the Vegas Hotel in Billings, MT.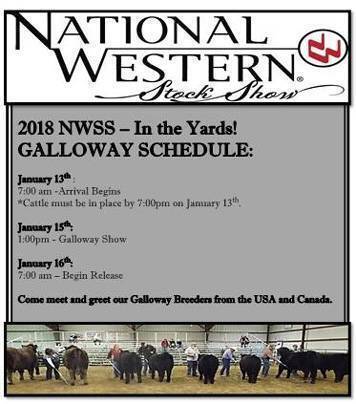 Congratulations to Blegen Galloways for winning the 2017 NILE AOB Champion Yearling Bull competition with their fullblood Galloway bull, Willow Valley Denver.